Volunteer Blog: Life during the pandemic
A Healthwatch Hillingdon volunteer gives their experiences of living in the pandemic.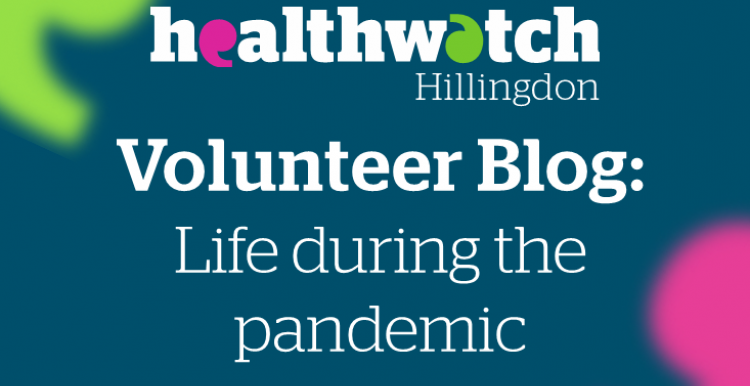 I guess we all have different ways of coping with the social isolation, social distancing and the stay at home directives. However, even though we want to do what is right it is not easy. The news and constant media coverage is ongoing, daunting and to be honest grim and scary. We are all in total admiration for the NHS, care staff, GPs, indeed all key workers, other essential workers and front-line staff. Thank you!
We are being told that the situation is highly likely to get worse before life can begin to return to something resembling 'normal'. How do we cope with that? 
We will all have different ways of getting through... I think what works for one person may not for another. We each have to find what works for us individually. 
To be honest I have had ups and downs.
I do feel very fortunate in that I have a garden and am able to spend time outside whenever I want, as well as go for a walk as permitted exercise. The good weather in the first week of lock down really helped me!  I need to go out for my own mental health.... much to my husband's amazement! 
What really helps me, though, is having a 'flexible' daily routine and I try to set myself a realistic, not over-ambitious goal/activity each day..... e.g. I repaired my husband's new slippers one day, I planted some seeds another day, I plan to wash windows, sort through some photos, keep colour in the garden, watch some feel-good films, keep in touch with others by phone.
What really helps my general well-being is doing some exercise so I have started a 30 day yoga challenge and begin each day with some yoga moves... all very new to me and a definite challenge! I find listening to music really helps lift my mood, so I put on my favourite CDs or listen to the Robert Elms show on Radio London (my husband's favourite). 
I also enjoy reading - nothing too heavy at the moment, and so set aside some time each day for that. The daily walk also lifts my mood. I take pleasure from seeing the birds in the garden and positively encourage this by putting out bird food. I enjoy endless cups of tea! I am being creative in the kitchen. I enjoy a glass of wine (or 2!).  I am trying to keep on smiling and to carry on!
I am really missing seeing family and friends so am enjoying the WhatsApp chats and video links and phone calls. We are 'all in this together...' and keeping connected is so important to lift each other's spirits. 
Good luck to everyone! I am trying to accept there will be down times and that is natural. There are also going to be up times and I will draw from these and the truly inspirational acts of kindness I keep coming across. It is early days but I will do my bit: I will wash my hands, I will keep phoning others and talking to others and I will stay at home!  I will get through this!