Volunteer Blog: Life after Lockdown
A Healthwatch Hillingdon Volunteer details their experiences in life after the Lockdown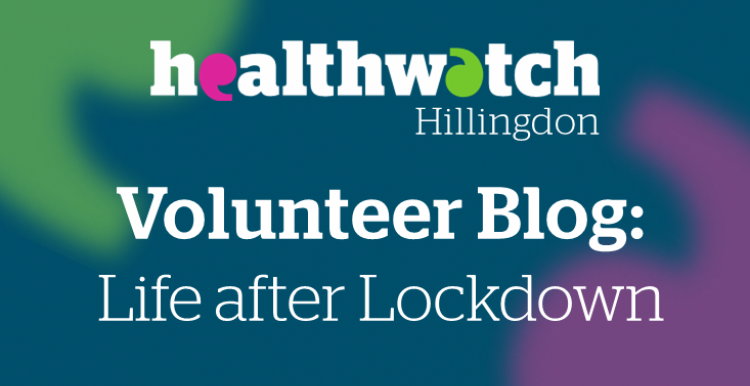 Being stuck at home for nearly half the year wasn't an issue for me, a homebody, I quite enjoyed spending time with my family and locking myself up in my room with a good book or TV show. However, it was during Ramadan (the holy month of fasting for Muslims) when I felt the severity of the situation we were in. There were no family gatherings at sunset when we broke our fast – the whole month flew by between the white walls of my home, not the magnolia of my aunt's kitchen or the blue of my uncle's living room.
Any hopes of returning to 'normal' disappeared when Eid greetings were said over the phone and gifts exchanged in the post. So, you can imagine my excitement when lockdown eased in time for the second Eid celebration in August. I was ecstatic. But staying within the borders of my street for so long made me anxious. I became worried to do things that would've been my norm just a few months prior. It didn't feel right to meet up with others, especially since I live with my grandmother. It took a while, but I realised that these emotions were normal and that we all need time to adapt to the changes around us as well as the measures that have been put in place by the government for our safety. Although we're inching closer to how life was before covid-19, this virus still exists, which is why it's important that we remain cautious and continue to abide by social distancing rules.
We all have our own ways of coping with the easing of lockdown – one thing that really helped me was returning to work. With university closed until September and most probably resuming online for the first half of the year, reuniting with colleagues and customers gave me the human interaction that I thought I didn't need, but internally craved. Speaking with customers was at times therapeutic as many shared the same concerns I had when quarantine eased. The walk to work allowed me to have time to myself without the flashing of a smartphone in front of me, just accompanied by the breeze and bursts of sun, when I was lucky.     
Even though 2020 has been a year beyond our comprehension, filled with confusion and turmoil, I hope that we can take our struggles and truly appreciate the little things that we usually take for granted; our family, friends, livelihood and education. Lockdown was not easy for any of us and while we may be happy that it is slowly easing, the path to normality will require time and a lot of patience.