Read our annual report, telling the story of our work in the year 2017-18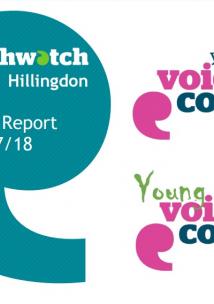 Summary
The key areas for 2017-18 were:
Youth Engagement Project - Continuing our work from the 'Seen & Heard - Why not now?' report published in 2015, and focusing on Mental Health, Wellbeing and Life Skills.
Extended hours GP Access - Detailing how Hillingdon residents felt about being able to see a GP outside of the traditional Monday to Friday opening hours, and how they would like to access the 'extended hours appointments'.
Maternity and Hospital Discharge follow-up - how have our recommendations been recieved, and acted on?