Our annual report tells the story of our work from April 2020 to March 2021.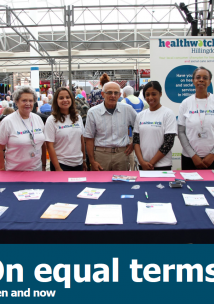 Summary
With over 20,000 people engaging with us during the COVID-19 pandemic, and national lockdowns shaping the way we work, we look back on how our work has made an impact in health and social care. Highlights from the year include:
How our work with young people has helped our Young Healthwatch Hillingdon team engage on important topics.
Ensuring what matters to patients is at the heart of transformation in health and social care - including raising issues around mental health, access to GP's, and Dentistry.
Our response to the COVID-19 epidemic, supporting residents to get the right information and help when needed.
Engaging with over 5,600 residents across North West London to understand their views on COVID-19 vaccines.