Our annual report tells the story of our work from April 2019 to March 2020.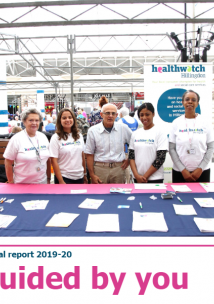 Summary
Over 2,500 Hillingdon residents have taken part in our events and workshops, or given us their views on local health and care services. Highlights from the year include:
Your views of what works well in health care, what could be done better from our 'What would you do?' campaign as part of the NHS long term plan.
How we supported schools in Hillingdon by delivering mental health and wellbeing programmes to students.
Our Young Healthwatch Hillingdon activities, including a review of sexual health services in the borough.
A review of accessibility of dentistry services in Hillingdon.
Our involvement in the review of Mount Vernon Cancer Centre.